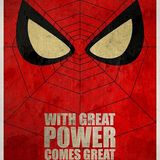 What did Ben Parker mean when he tells Peter the famous words about power and responsibility, and do we agree with him? Who decides who a hero is responsible to, and what for? Can believing in the responsibility that your power gives you lead you to become a villain? Matt and Jeff of the Marvel Cinematic Universe Podcast join us to discuss these questions and more!
Important announcement: In partnership with the MCU Cast and all the great folks at the Stranded Panda Podcast Network, we are kicking off a review drive! Reviews are the best way to help this show grow- it moves us up the lists on Itunes and the other podcast services, gives more people a chance to find us, and join the conversation! We've got big goals, but we need your help!
If you write a 5 star review of Superhero Ethics) between now and Sunday June 7th, you'll be entered into a raffle. At least one of the review writers for Superhero Ethics will win their choice of an MCUCast or Superhero Ethics T-shirt! Every review will also enter you into a drawing with review writers for other Standed Panda shows, with the winner getting a free copy of the Avengers video game, coming this fall. You only have to write a sentence or two, but make it a real one- simply writing "I want the shirt" sadly doesn't help.
The easiest way to write a review is to search for this podcast on Itunes, but you can write a review on any podcast host that uses them. Just be sure to let us know by emailing superheroethics@gmail.com if you do something other than Itunes.
And remember, even if you don't think we don't deserve 5 stars,we'd still love a review, so we can learn more about what we are doing well and how we can improve.
You can download the episode with a right click and clicking "save link as" or subscribe by searching for Superhero Ethics on Itunes, or wherever else you find your podcasts.
Want to continue the discussion with us? Agree or disagree with what we talked about, or want to add your own thoughts? We've got options for you!
You can post questions, or respond to our episode threads in our Superhero Ethics Facebook Group, or talk to us on the podcast's Twitter account, or email us at superheroethics@gmail.com.
Support this podcast through our Patreon page! Patreon is a great way to support creators like us through donations, and get great rewards for your help. You can even pick a topic for an upcoming episode! https://www.patreon.com/superheroethics
Want to show your love for Superhero Ethics with a t-shirt, hoodie, cell phone case, mouse pad, or other swag? We now have a store where you can buy any of those things and more! https://www.teepublic.com/user/superheroethics
This podcast is proud to be a member of the Stranded Panda Podcast Network. Check it out to find a number of other great geek properties, including others co-hosted by Matthew.
With Matthew
And some of the other great Stranded Panda podcasts include: